Endovab has been granted a new European patent that will be issued on the 5th of April. The patent relates to technology for delivering and retrieving a medical device inside the body. The flexible mechanism has been designed to allow delivery and retrieval in tortuous anatomies and is currently utilised in the Liungman Guidewire Fixator.

You will find more information on Endovab IP here.
Read the full post »
Unstable guidewire position during chimneys and snorkel procedures is an imminent risk that requires experience and attention. Professor Mario Lachat at the University of Zürich is one of the international pioneers of parallel graft and sandwich techniques using chimneys and snorkels to both visceral and arch branches.

As a scientific board member, Mario Lachat was the first to use the LGF in a snorkel case in March 2017 as a pilot for a planned study. The LGF was used to secure the guidewire position in the right renal artery while deploying three Viabahn stentgraft that were then reinforced with bare Wallstents. The entire procedure entailed a full metal jacket stentgraft treatment, including parallel grafts with snorkels connecting the renal arteries and a chimney for the superior mesenteric artery.

The procedure was successfully completed and the LGF performed as intended.

"I liked the device, it's a great tool" – Mario Lachat.

If you are interested to learn more about the chimney and snorkel technique using the LGF, or if you want to sign up interest for early adoption and study participation, please contact Dr Krister Liungman, Krister.liungman@endovab.com.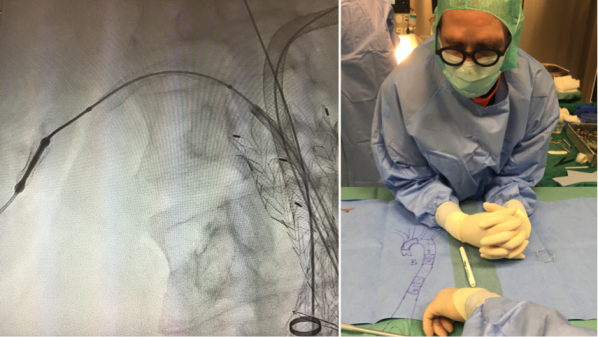 Read the full post »
Copyright © 2019. Endovascular Development AB. All Rights Reserved.