Increased awareness of risks associated with radiation exposure to surgical staff challenge current endovascular methods for treatment of complicated aortic aneurysms.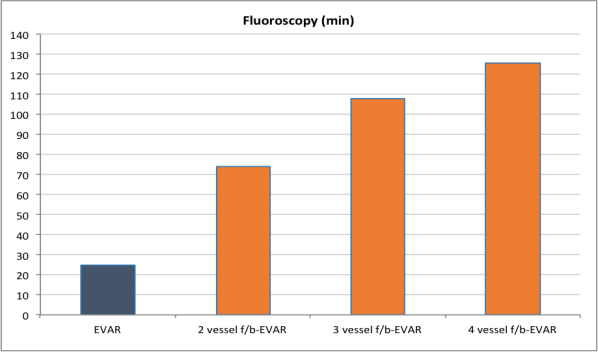 A retrospective cohort study of 63 EVAR and 63 f/b-EVAR from 2012-2015 at Uppsala University shows that f/b-EVAR procedures are far more complex than conventional EVAR.

The study result shows a remarkably linear relation between number of branched vessel catheterisations and parameters such as use of fluoroscopy, blood-loss, need for intensive care, and anaesthesia and procedure duration. For example, a complete two-vessel f-EVAR lasts on average for 359 minutes (5h 59min), uses 72 minutes of fluoroscopy, and has a total blood loss of 1100ml. Each additional branch catheterisation equals an average of another 98 minutes (1h 38min) procedure duration, 27 minutes of fluoroscopy and 400ml of blood loss.
More about this and the LGF approach to reduce the f/b-EVAR challenges will be presented at the Veith Symposium in New York. Wednesday the 15th of November at 10:42, session 41 in the Trianon Ballroom Hilton Hotel.
Read the full post »
Endovab announced today that it has received CE mark approval for the Liungman Guidewire Fixator, the LGF™.

"This is a major landmark for our company and the development of endovascular techniques in general. The LGF is the first ever guidewire that can be anchored distally in an artery while maintaining blood flow. Distal fixation allows parallel work and a range of new endovascular methods and techniques, such as improve the treatment of complicated aortic aneurysms by reducing procedure duration and make more patients eligible for treatment. It also has the added benefit of making procedures more predictable, saving hospitals time and resources" states Linus Bosaeus, CEO of Endovab.

Endovab is a medical device development company, founded by vascular surgeon and inventor MD PhD Krister Liungman, former Head of Vascular Surgery at Uppsala University Hospital. The concept of the LGF was initiated after a lifelong career in aortic repair, with the vision to improve endovascular treatment of complicated aortic aneurysms, and a way for the surgeons to maintain guidewire position at all times.

The LGF consists of a braided structure of Nickel Titanium, a super elastic memory alloy, which secures the guidewire position through a moderate radial force to the vessel wall. If tension is applied to the guidewire, the braided structure deforms and increases the radial force temporarily to maintain guidewire position, a built-in safety feature prevents over expansion and arterial trauma.

"The LGF is a really interesting and innovative product that enables new working methods that will improve treatment and push the endovascular frontiers further", states Professor Anders Wanhainen from Uppsala University, principal investigator for the clinical study. Scientific board member and thoracic surgery expert professor Tilo Koelbel from the Heart Center in Hamburg comments "Endovab truly has a great team and their disruptive innovation is really impressive in this competitive filed of medical technology".

Over the coming months, the company will introduce the LGF to specialized endovascular clinics for further studies in the field of endovascular aortic repair.

Press contact: Linus Bosaeus, linus.bosaeus@endovab.com +46760199975
Click here to down load the full text:
Read the full post »
Thank you ESVS for the opportunity and all you innovative surgeons who engaged us afterwards. More information regarding the guidewire fixator and the facilitated method for f/b-EVAR can be found here.

Read the full post »
Copyright © 2019. Endovascular Development AB. All Rights Reserved.