f/b-EVAR, still far from EVAR
Increased awareness of risks associated with radiation exposure to surgical staff challenge current endovascular methods for treatment of complicated aortic aneurysms.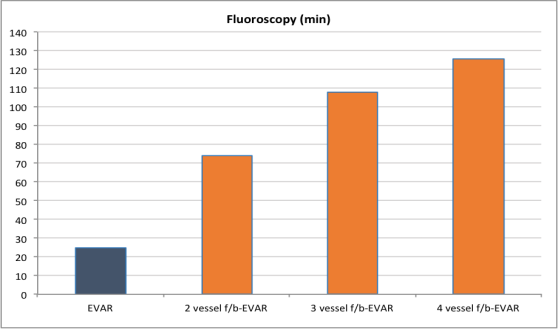 A retrospective cohort study of 63 EVAR and 63 f/b-EVAR from 2012-2015 at Uppsala University shows that f/b-EVAR procedures are far more complex than conventional EVAR.

The study result shows a remarkably linear relation between number of branched vessel catheterisations and parameters such as use of fluoroscopy, blood-loss, need for intensive care, and anaesthesia and procedure duration. For example, a complete two-vessel f-EVAR lasts on average for 359 minutes (5h 59min), uses 72 minutes of fluoroscopy, and has a total blood loss of 1100ml. Each additional branch catheterisation equals an average of another 98 minutes (1h 38min) procedure duration, 27 minutes of fluoroscopy and 400ml of blood loss.
More about this and the LGF approach to reduce the f/b-EVAR challenges will be presented at the Veith Symposium in New York. Wednesday the 15th of November at 10:42, session 41 in the Trianon Ballroom Hilton Hotel.